Welcome!
Our world's global challenges with respect to access to good health and food, clean water and air, climate-resilient and secure societies require major efforts with respect to circularity and sustainability. However, they all have one crucial prerequisite in common: the availability of reliable analytical data, obtained by reliable and robust sensors, based on new fundamental knowledge obtained using high-tech analytical equipment. No meaningful future without meaningful data from analytical chemistry.
Within that context it is our great pleasure to invite you to EuroFAST2022, to be held from 19 – 22 April 2022 in the historic city center of Nijmegen, the Netherlands.
This EuroFAST2022 is hosted by the Section Analytical Chemistry (SAC) of the Royal Dutch Chemical Society (KNCV) and COAST, the Dutch Community of Innovation for Analytical Science and Technology.
EuroFAST stands for European Forum on Analytical Sciences and Technology. The Netherlands comprises several major roots of analytical chemistry and technology that dates back to the pioneering research by Izaak Kolthoff in innovative analytical methods in the early 1900's. Following this spirit, our philosophy for EuroFAST2022 is to enable the EU's Societal Challenges with Analytical Chemistry Solutions. We believe that revolutions in resolution, analysis of intact systems, bringing the lab to the sample, and assuring the availability of well-trained analytical chemists are all needed in order to combat the challenges ahead. We hope you will share this mission with us and are looking forward to an inspiring EuroFAST2022 event in The Netherlands.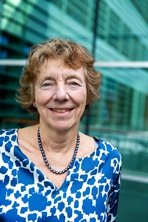 Prof. Lutgarde Buydens, chair of EuroFAST2022